Aging Fact Check
No one can beat gravity in the long run. Until a time machine is invented or someone discovers the fountain of youth, we won't get our younger selves back.
It's also a fact that aging is more difficult for women. Meaning, women over 40 are still heavily underrepresented in the media. Even in the beauty and skincare industry you mainly see younger women. Beauty is equated with youth and sexism meets ageism.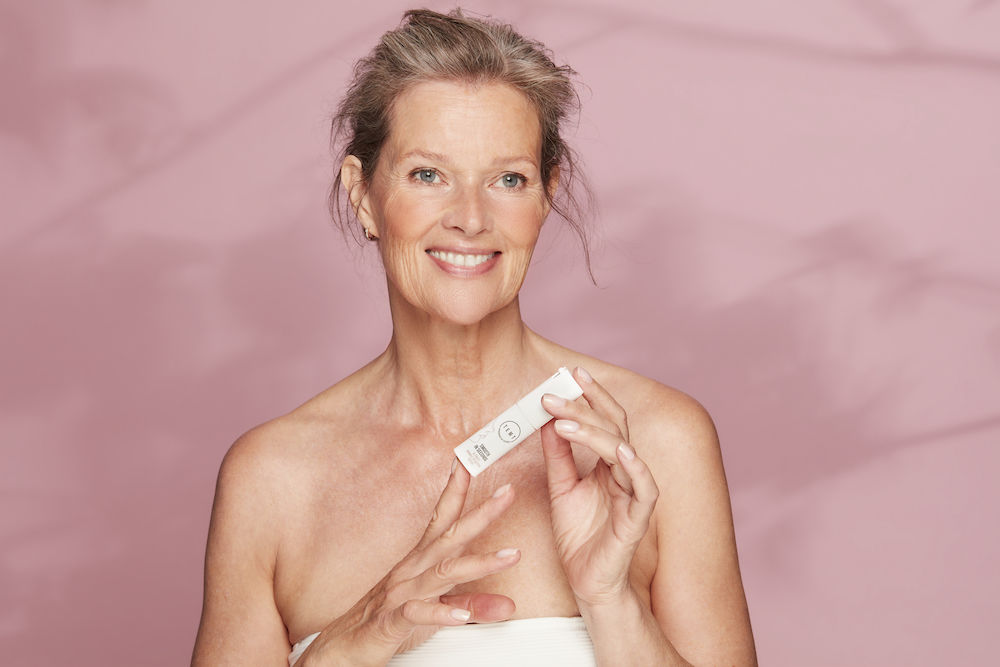 At TEMT, we have made it our goal to ensure that our models are diverse in age as well. We think that the beauty industry too often gives us women the feeling of never looking beautiful or young enough.
Nevertheless, we don't want to dispense or disregard anti-aging measures such as plastic surgery and other microinvasive facial care that tightens and lifts the skin. It's all about everyone's individual choice. We think that everyone should have the opportunity to decide for themselves how they want to present themselves.
In this blog article we point out various options that exist to reduce the signs of aging.
Our question: Does it have to be plastic surgery or do skin care products with active ingredients have the same effects?
Smooth In Just Seconds
Let us introduce you to Smooth In Seconds – a serum made for instant results, this marine based treatment provides almost immediate results. Visibly smoother skin and reduced wrinkles. The skin is recharged with an instant lift thanks to active ingredients from the deep sea.
Forget your Instagram filter – this quick fix serum gives you that immediate effect and it's the perfect on-the-go product. The 10ml bottle fits into every handbag – you will only need to pump a small amount on your ring finger and tap it gently around your eye area, frown line and other fine wrinkled areas on your face. This serum can save your special event, leave your skin feeling refreshed and selfie-ready for the hottest pix.
The Ingredients
Here is a list of wonder ingredients included in our Smooth In Seconds:
Kappaphycus Alvarezii Extract (red algae extract)
helps to moisturize the skin instantly and to balance out dark spots.
Tara (caesalpinia spinosa) Fruit Extract
is rich in antioxidants and helps the skin to protect itself from harmful environmental influences.
Bacillus Ferment
is derived from the turquoise waters near Mauritius Island and known to help beat the signs of gravity while supporting the skin's natural contours.
Pullulan (Polysaccharide)
acts similar to hyaluronic acid and helps to build a corset to lift the skin up.
Acetyl Hexapeptid 1
minimizes fine lines and helps to send commands to the skin. It's the biochemical language and almost like someone shouting: "Produce more collagen!"
---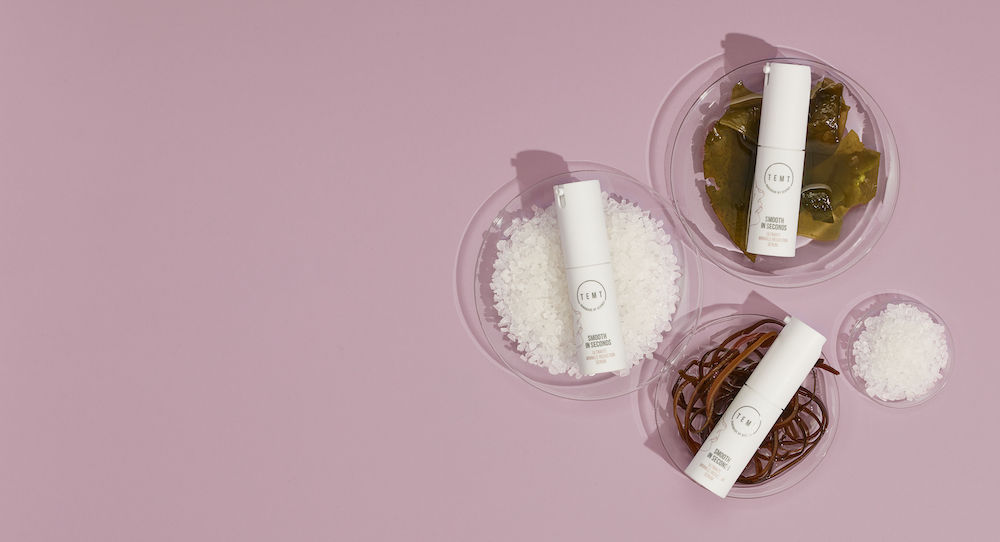 Our innovative, instant result serum could make you feel like a new you. But do active ingredient skincare products work almost like plastic surgery? Is there that one cream that instantly reduces your wrinkles – just like Botox? Is there that one serum that instantly plumps your loosely hanging skin – just like a filler? Do immediate lifting creams really exist?
The Study – Real People – Real Results
We have done an efficacy study which lasted 30 days. The results of this test were great!
The test proves that the product convinced most testers after the first application. The skin feels
refreshed
moisturized
less wrinkles
Most of the testers experienced the mentioned effects within 300 seconds after application. In individual cases within 30 seconds.
Interview with Dr. Birgit Karle
Additionally, we have interviewed Dr. Birgit Karle, specialist in plastic, aesthetic and reconstructive surgery. Her curriculum vitae is long and this proves her many years of experience also in the aesthetic beauty field. She gained her work-experience in Germany, USA, Switzerland and is now practicing in Vienna.
Dimi, TEMT: Active ingredient skincare "work" in the upper skin layers and can either improve the structure of the epidermis through direct action or indirectly, via messenger ingredients triggered in the epidermis e.g.: improve collagen synthesis. In your experience, at what point is microinvasive or plastic surgery necessary or is cosmetic correction alone not sufficient?
Dr. Karle: The signs of skin aging are, in addition to the loss of moisture, the formation of expression lines, loss of elasticity and volume.
Active cosmetics primarily counteract the loss of moisture in the upper layers of the skin. By adding special active ingredients, the aging of the skin can thus be delayed and fine wrinkles caused by dryness can be reduced.
The decisive changes in skin aging, however, take place in the dermis. This skin layer consists mainly of connective tissue cells, the so-called fibroblasts. Advanced skin aging results in deep expression lines, a loss of elasticity due to reduced formation of collagen fibers and, in addition, a loss of volume of the subcutaneous fatty tissue.
These signs of skin aging cannot be corrected by skincare products alone. With the help of botulinum toxin®, deeper expression lines can be smoothed out again, and fillers or autologous fat injections compensate for the loss of volume and counteract the loss of elasticity by stimulating the collagen fibers.
However, if there is already a significant excess of skin and loss of contour, a surgical procedure such as a minimal-invasive thread lift or a facelift is advisable.
Dimi, TEMT: Quick-Fix is the physical correction of visible skin aging (immediate effect). Plus the induction of biological anti-aging factors. How do you see the connection between plastic surgeries or Quick-Fix and cosmetics? Do you see synergies here and if yes, which ones?
Dr. Karle: Plastic surgery, minimally invasive treatments (Botox and fillers) and active cosmetics complement each other.
Active ingredient cosmetics, for example, together with hyaluronic acid injections, provide a "fresher" appearance, as there is a better supply of moisture and volume to the uppermost skin layers and at the same time to the subcutaneous layer.
In addition, there are newly developed fillers that not only add volume but also stimulate collagen and elastin synthesis.
In order to delay skin aging in the long term, a little bit of everything should be combined.
Dimi, TEMT: Which cosmetic Quick-Fix would you consider particularly important?
Dr. Karle: The supply of the top layers of skin with moisture and active ingredients such as Vitamin C or retinol. Or also the multi-functional Smooth in Seconds Serum from TEMT. With its active ingredients (e.g. Bacillus Ferment, Pullulan und Acetyl Hexapeptide 1) you can also see an immediate lifting and smoothing effect.
The Outcome – Active Cosmetics or surgery?
A well-curated skin care routine with a mix of effective active ingredients can make a great difference in the appearance of your skin. But it takes more than just one product.
Read here on how to layer your choice of skincare products correctly to maximize their effects.

Good skin care plays a great role when it comes to "pre-care". Remember how we've been preaching in our previous blog posts to start early with your skincare-regimen?!
Certain signs of aging however can not be fixed with the most effective skin care products alone! Deep wrinkles, loosely hanging skin or other aging factors would need that extra support by our Beauty Docs. That's pretty clear!
The subject of beauty and age is a difficult one and is rarely discussed. We would love to hear your opinion in the comments.